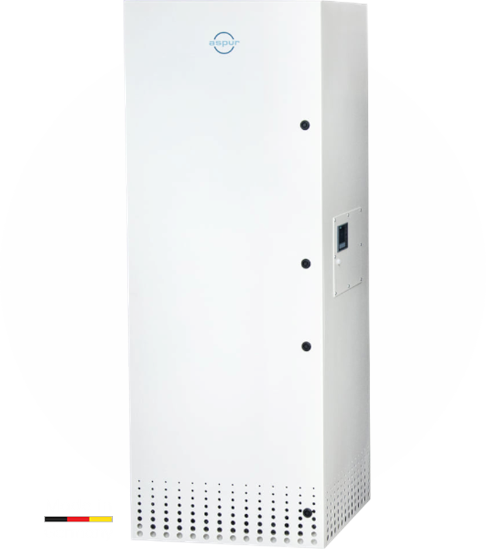 Air purifier for open-plan offices and very large offices
Our professionally manufactured air purifier ASPUR air 4000 is very well suited for very large office rooms such as open-plan offices or for trading rooms (room size from 20 to max. 220 m²) and is able to clean up to 3600 m³ of air per hour. With an optimal 6-fold air exchange rate, the device reliably filters out all viruses, germs and bacteria even in very large offices and rooms.
Simply plug & play.
Very compact and quiet. The air purifier was specially developed to quickly and safely filter up to 99.995% of existing pathogens from the air.
All ASPUR air models meet the technical requirements for infection control ventilation in open-plan offices.
For medium-sized and smaller open-plan offices, we have some more, less expensive air purifier models in our offering: ASPUR air 1000 model for rooms up to 90 m² and ASPUR air 2000 model for rooms up to 150 m².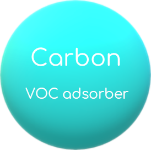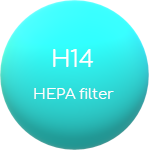 EN 1822 high efficiency particulate air filter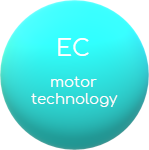 IE4/IE5 super premium efficiency
ASPUR air purifiers remove
Air purifier for open-plan offices
Viruses (such as SARS-CoV), bacteria, pollen, spores, germs and other harmful particles.

Filtering is carried out using tested filters according to the EN 1822 standard. More than 99.995% of all particles are safely separated using a very fine-pored HEPA filter of level H14. The cleaning of the room air takes place via 5 coordinated filtration stages. The room air near the floor is sucked in evenly from all four sides (360 degrees) of the air purifier, so that the aerosols are captured by the device in the best possible way and the wellness or fitness situation is once again supplied with clean air.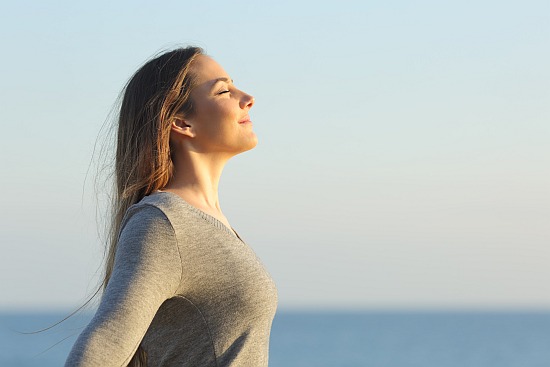 aspire pure air ... with aspur air purifiers!
Features: Air purifier for open-plan & large offices
5-stage filtration

with integrated

HEPA H14 filter element



Activated carbon filter

Sucks in contaminated air

on all four sides (360 degrees)




Very quiet

continuous operation

Mobile unit with high quality industrial castors

Optional stainless steel design

Housing with

integrated sound insulation



Standard design in RAL color 9016, individual design on request

Different product sizes and capacities available

Application: Air purifier for open-plan and large offices
High performance, custom control
Air purifier controller in open-plan offices
High performance
We offer devices in different performance classes for different spatial conditions. We use state-of-the-art EC motors that generate higher performance with lower power consumption and run more quietly at the same time.
Effective 5-stage filter technology against viruses and bacteria
High-quality filtering system through the combination of F9 pre-filter (ISOe PM1 80%) and tested Hepa H14 main filter (ISO 45H) ensure safe, long-lasting and effective air purification in classrooms.

Optimized control
Optionally configurable to individual needs. Standard control with filter monitoring and stepless power regulation. Electrical control with timer function, motion detector, boost function and CO2 control can also be configured as an option.
Quiet operations
Thanks to the latest sound insulation technology, the devices generate a noise pressure level of less than 40 db(A) in normal operation. This is the only way to ensure continuous operation and thus effective room air filtration.
Air purifier for open-plan offices made in Germany
Manufactured in Germany by professionals in industrial air technology.
ASPUR air solutions is a company that has 25 years of experience in the manufacture of ventilation systems for industrial use.
Our high-quality extraction and dedusting systems are used successfully in the automotive industry, pharmaceuticals, the food industry, mechanical engineering and many other sectors. The air purifiers are designed in accordance with VDI 6022 and are manufactured in Baden-Württemberg using high-quality components. With our air filters, we offer effective and lasting support for safe cooperation in our schools with small or large classrooms.
The benefits go far beyond emergency aid during the Corona Pandemic. In times of increasing health problems caused by indoor air, high-quality mobile air filters are a very sensible investment, even in the long term.